Troubleshooting Polish Pro Gel Polish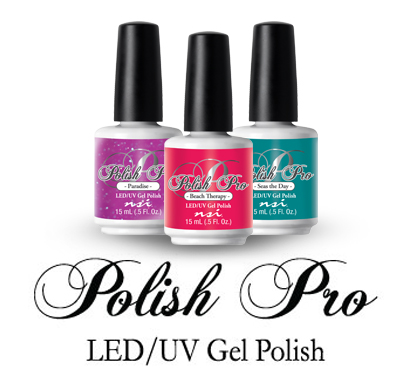 Gel Polish is a very popular salon service, so we created a reference guide for our
Polish Pro Gel Polish System
to help you spot problems on your own and quickly remedy them so you can provide the very best service to your clients.
Peeling/Chipping in less than two weeks
POSSIBLE EXPLANATION:
SOLUTION: (Application issues) Be sure to leave a tiny margin around the cuticle and sidewalls to prevent lifting. When applying color, do a clean swipe and don't let color build up at the free edge.
SOLUTION: (Prep issues) Eliminate the use of cuticle remover product, performing just a "dry" manicure (no soaking in water prior to application either). When dehydrating the nail plate, don't just quickly swipe with Nailpure Plus. Use a scrubbing motion with your Nail Wipe and be sure to get into the side walls and anywhere oil and contaminants could be hiding.
Color is bubbling/wrinkling after curing
POSSIBLE EXPLANATION:
SOLUTION: (Application issues) Your first coat of color should be thin and have an almost "streaky" appearance. You'll get full color coverage with your second thin coat. Also, be sure to shake your bottles of Polish Pro colors well before application (at least 20 seconds).
SOLUTION: (Product storage) Because Polish Pro contains solvents (like traditional nail polish), it is imperative that it remains at room temperature and capped TIGHTLY when not in use. If the solvents evaporate, the polish will not cure smoothly and it can be become thick and gummy, making thin layers difficult to apply.
Top Coat is dull after curing
POSSIBLE EXPLANATION:
SOLUTION: (Curing issues) Be sure you are using a Full hand LED Lamp or 36-Watt full hand UV Bonding Lamp, and that you are curing the nails for a full 30 seconds. An incomplete cure can cause the nails to dull.
SOLUTION: (Application issues) While you are still striving to achieve thin layers with Polish Pro, your Essential Seal Top Coat layer should be slightly thicker than your color coat layer to ensure it fully covers.  Also, be sure you are using Cleanse to remove the tacky layer, as other products may remove the tacky layer, but may dull the shine of Essential Seal Top Coat.