Terms & Technology: Dip Systems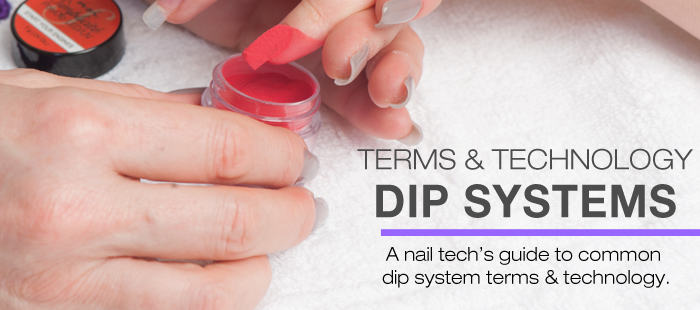 Dip systems are not new! There we said it! We've heard and read many comments from you, our followers on social media, that dips have been around for more than 25 years and then dismiss what we are trying to show or teach. So why are "we" saying it's new! Everywhere you turn there is another company coming out with a new dip system.
What is really new? Terminology or technology?
Technology! This is what is new! As a manufacturer, NSI learned from their past products' successes and failures and has listened to you, our customers. We have advanced the technology of the traditional resin dip system into the light cured era to introduce the Simplicite PolyDip System. Simplicite is not your regular old gel that's been around since the dinosaurs. It's chemistry, it's a unique blend of NSI exclusive products, it's a new generation of gel. That's what makes it special and not the same as your run-of-the-mill dip system.
In the past technicians would say "if you can't sculpt, then you dip". Nail technicians would say that you're not really doing nails if you dip, you would be frowned upon if you used systems like this, I don't believe that this is the case any more. Yes, some technicians do not see a place for these systems, but nothing can be further from the truth.
So what has changed?
First, let's define what dip systems are. Traditional dips are taking a resin (adhesive) and a polymer (powder) and combining the two together. It's a technique where sculpting isn't required. Dip systems don't always have to be a resin base. In the past, companies have come out with hard gels that are dipped into powder before curing. This type of system has not been very popular though, as the heat transfer to the natural nail has been rather strong.
Whether you are new to the nail industry or have been in the industry for many years, so many systems, with so many names, how do you know what's what? Well let's take a look at terminology.
Terminology:
Dip System: A system that uses a cyanoacrylate adhesive or a gel base that is dipped into an acrylic powder.
Resin: A cyanoacrylate adhesive.
Activator: Either a spray or a brush on liquid that hardens the adhesive more quickly.
UV/LED Dips: A gel base which is cured in either UV or LED light.
Powder Gel: An acrylic powder typically used with resin.
Gel Powder: An acrylic powder typically used with resin.
Myths:
Resin is Gel: Many people believe that a resin is a gel. It is not. In plain terms, it is GLUE. Activators are only used for resin (adhesive) systems to harden, never for gel.
No Light Gels: No such thing. These are manufacturers' marketing tools. All gels need an energy source to cure. That energy is either a UV or LED light.
New dip systems are the same as they were 20 years ago: Not true. Technology is always advancing. Manufacturers learn from past products' successes and failures and strive to adapt new products to meet new consumer demands.