New Gel Polish Markdowns || $5 Per Bottle || CLICK HERE || While Supplies Last
PolyBond – Clear Nail Glue
Category: Other,
Skill Level: beginner
Thoroughly prepare the natural nail by pushing back the eponychium and removing the true cuticle. Gently remove the shine using an Endurance 180/180 Grit File or higher. Saturate a Nail Wipe with Nailpure Plus, and wipe it across the natural nail to dehydrate, cleanse, and protect.
Place a small line of Polybond Nail Glue to the free edge of the natural nail, spreading from side to side. Repeat on the well area of the tip.
Holding the tip at a 45 degree angle, approach the natural nail until the stop point fits properly. Rock the tip into place and apply even downward pressure to force out all air bubbles. Hold snug for 10 seconds. Cut to size.
If needed, use an Endurance 180/180 Grit File, blend the tip to the natural nail plate. File on the tip only, not on the natural nail. Remove the dust with a Nail Wipe saturated with Nailpure Plus. Continue enhancement service with your choice of NSI acrylic or gel systems.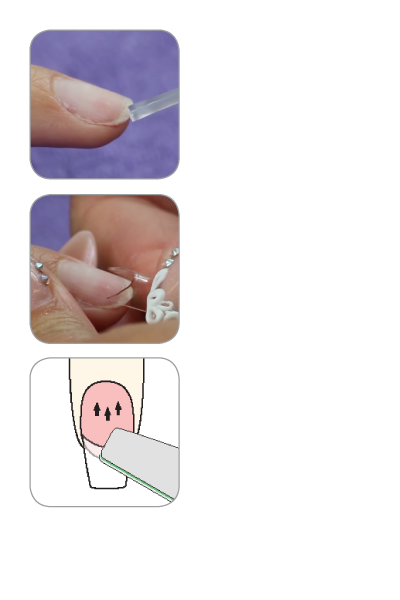 PRODUCTS USED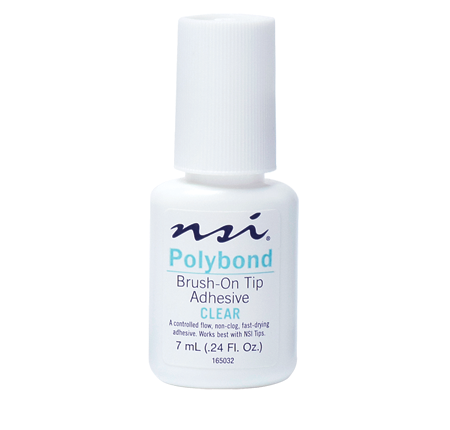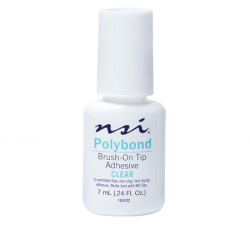 Polybond
Nail Glue
View this product