Easy Baby Boomer Demo
Category: Nail Art, Other,
Skill Level: beginner
After you have completed your enhancement, refine file the nail using your 180/180 Endurance Grit File. Remove dust with Plush Brush. Using a Nail Wipe saturated with Cleanse, remove any dust that may be in the side walls or cuticle line.
Using Glaze 'n Go Soft Pink, start at the cuticle line, apply a thin layer in polish like strokes. Glaze 'n Go should be applied in thin layers to ensure a super shiny finish. Brush down 2/3rd of the nail enhancement, and do not cure the nail.
Using Glaze 'n Go Glistening, apply a thin layer of coverage to the remaining enhancement, down the free edge of the nail. Do not cure the nail.
Using your NSI HD Detailer Brush, gently blend the two colors. In a tapping motion, keep your strokes light and soft to push the gel up the nail and back down the nail. Blend until you are satisfied with the look of the nail. Cure in the Dual Cure Lamp, LED for 30 sec or UV for 2 minutes.
Glaze 'n Go Shimmers cure to a Tack-Free shine, just like the original Glaze 'n Go! There is no tacky layer to remove. Condition the cuticle and surrounding skin with Nurture Oil.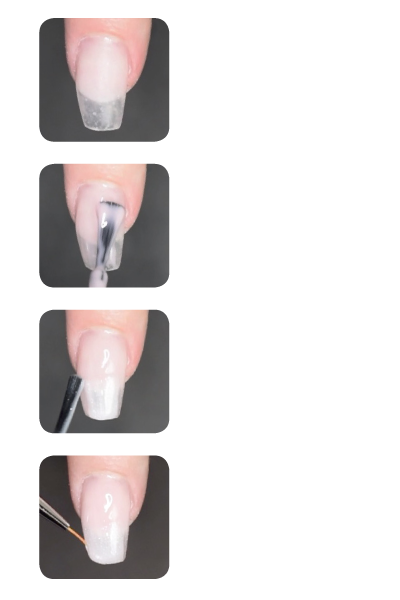 PRODUCTS USED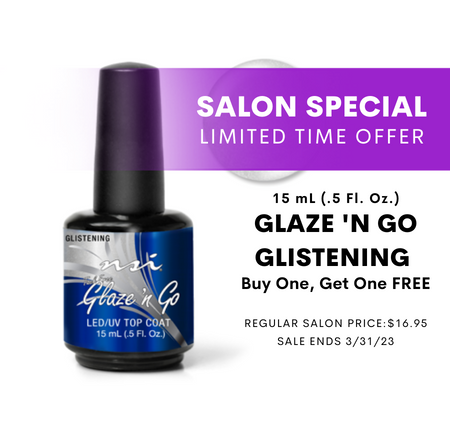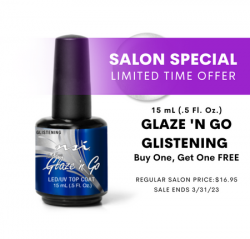 Glistening – BOGO
Glaze N Go Shimmer
View this product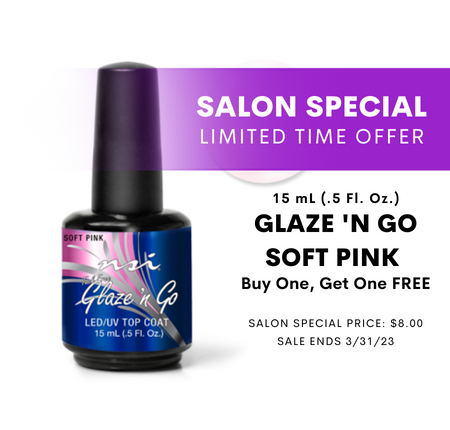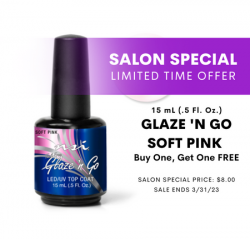 Soft Pink – BOGO
Glaze N Go Shimmer
View this product