New Gel Polish Markdowns || $5 Per Bottle || CLICK HERE || While Supplies Last
Acrylic Zone Sculpting On a Form
Category: Acrylic, Attraction,
Skill Level: intermediate
After prepping the natural nail, use a Nail Wipe saturated with Nailpure Plus to wipe the nail.
Snuggly fit a Platinum Nail Form.
Apply Essential Bond liberally to the natural nail.
Using a medium-wet mix ratio, place a medium sized bead of Radiant White Powder near the smile line.
Gently press the smile line into place, guiding and pressing the product into the corner of the smile line.
Using Radiant Pink Powder, press out a medium-wet bead in Zone 2 just beyond the smile line. Press gently from side to side to coat the nail evenly.
Place another bead in Zone 3 near the product in Zone 2. Angle your brush and thin the front of the bead so it leaves a tiny margin around the cuticle.
Using an Endurance 180/180 Grit File, define the shape. Remove excess dust with Plush Brush. Using a Nail Wipe saturated with Cleanse, remove any dust hiding in the side walls.
Apply Glaze 'n Go LED, in polish style strokes, and cure in the Dual Cure Lamp, LED, for 30 seconds or UV for 2 minutes.
Condition the cuticle and surrounding skin with Nurture Oil.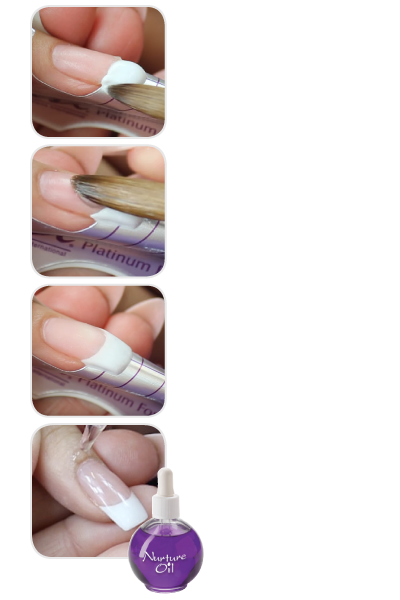 PRODUCTS USED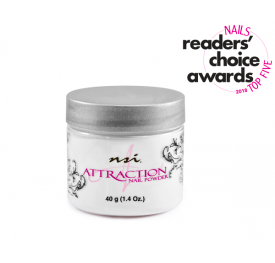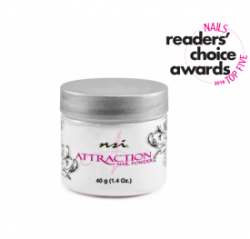 Radiant White
Attraction Acrylic System
View this product