Acrylic Zone Sculpting On a Form with Secrets Primerless Nail Liquid
Category: Acrylic,
Skill Level: intermediate
Spray your hands and the clients hands with Purify. Thoroughly prep the natural nail. Remove the shine off the natural nail with an Endurance 180/240 Grit Buffer. Wipe with a Nail Wipe saturated with Nailpure Plus. Snuggly fit a Platinum Nail Form to the nail.
With the Secrets Primerless Nail Liquid you don't need to use a primer. Place a medium sized bead of Secrets Veil White near the smile line of the natural nail.
Gently press the smile line into place, guiding and pressing the product into the corner of the smile line.Using Secrets Acrylic Powder Disguise, press out medium-wet bead in Zone 2 just beyond the smile line. Press gently from side to side to coat the nail evenly.
Place another bead in Zone 3 near the product in Zone 2. Angle your brush and thin the front of the bead so it leaves a tiny margin around the cuticle.
Using an Endurance 180/180 Grit File, define the shape. Remove excess dust with Plush Brush.
Using a Nail Wipe saturated with Cleanse, remove any dust hiding in the side walls. Apply Glaze 'n Go LED, in polish style strokes, and cure in the Dual Cure Lamp, LED for 30 seconds or UV for 2 minutes.
Condition the cuticle and surrounding skin with Nurture Oil.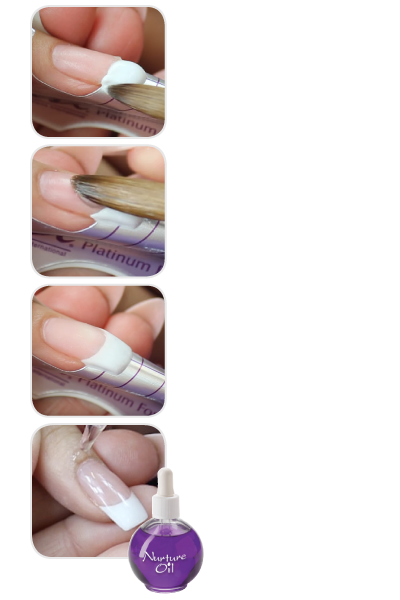 PRODUCTS USED

Warning: Invalid argument supplied for foreach() in /home/nsinails/public_html/wp-content/themes/nsi-theme/single-demo.php on line 80