Black Friday Sale | 40% OFF -- Use code BlackFriday20 at checkout
NSI Re-Designs the Stiletto Nail Form for the Nail Tech
The Secrets Stiletto Nail Forms just got a brand new look!
The Secrets Stiletto Nail Form has been re-designed to be an easy to use learning tool for techs of all skill levels. The new design makes the stiletto nail form even more versatile than it was before! The new design features two sculpting grids, one that can be used for traditional nail shapes and one that can be used for alternative nail shapes. The new design features easy to follow numbers that are visible when looking down the front of the form or the side, perfect to keep the nail length and shape consistent from nail to nail. We also included a helpful indication mark to show you exactly where to cut the form to achieve a less extreme length. The NSI Secrets Stiletto Nail Form is great for taking your traditional sculpted nails to a new level!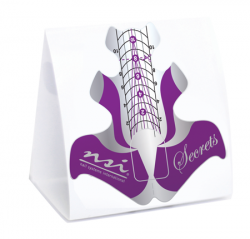 These forms are ideal for sculpting any alternative nail shape like the stiletto, edge, gothic almond, lipstick and you can even use them for traditional nail shapes. These are our longest nail forms, great for sculpting longer enhancements without doubling up forms. They are designed with a sculpting grid to keep length and shape consistent from nail to nail. Similar to our Platinum Nail Forms, you can even use these forms for sculpting with gels, as long as you start with a thin clear gel base layer.