New Brushes for NSI in 2019
NSI has completely re-designed the look, feel and workability of their core brush line.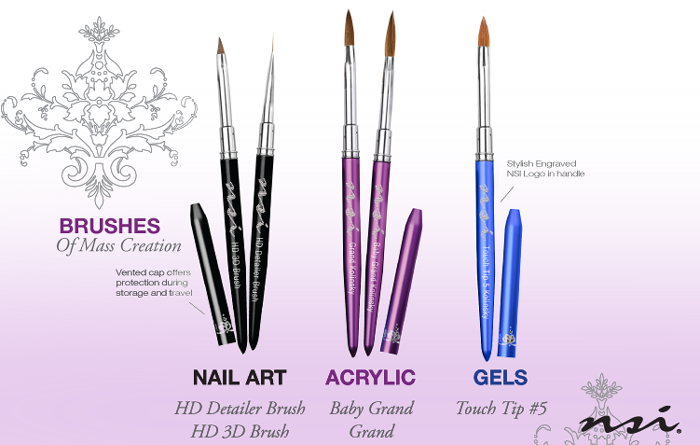 NSI's continued success of the Royal Precision Brush raised the bar for precision tools for professional nail technicians. NSI has been working carefully with a group of Nail Technicians to find the perfect brushes to raise the standard of their existing brushes. The new brushes were carefully chosen to complement the workability and chemistry of NSI's professional only products. The brushes not only look beautiful, but they also work beautifully.
The brushes are color coded based on use, perfect for storage and organization, and engraved with the brush name and NSI logo. The re-designed brushes feature a lightweight metal handle for ease of use, and a vented cap for storage.
These stylish brushes are available in:
Touch Tip #5 (Oval) Gel Brush
Baby Grand #6 (Round) Acrylic Brush
Grand #8 (Round) Acrylic Brush
HD 3D Nail Art Brush
HD Detailing Nail Art Brush
Check with your local distributor for availability and pricing on these new brushes.