I Polish Pink Collection for Breast Cancer Awareness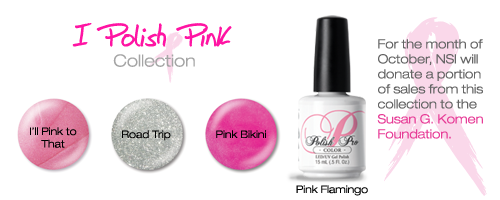 October is Breast Cancer Awareness month and NSI has designed a Polish Pro collection to highlight the important cause. The I Polish Pink collection is part of a campaign to show support for breast cancer awareness by polishing nails pink in October. The collection features 3 of NSI's favorite pink shades (I'll Pink to That, Pink Flamingo, Pink Bikini) and an accent glitter (Road Trip). Each set of polishes come complete with an I Polish Pink for Breast Cancer sticker to be displayed proudly.
The collection will be available for online purchase beginning October 1st through the 31st via nsinails.com. As part of the I Polish Pink campaign, NSI promises to donate a percentage of sales from the collection to the Susan G. Komen Foundation, an organization working to end breast cancer in the U.S. and throughout the world through ground-breaking research, community health outreach, advocacy and programs in more than 30 countries.
The I Polish Pink collection is part of NSI's Polish Pro Line. Polish Pro is a gel polish curable by LED or UV lights. It lasts 2-3 times longer than traditional natural nail manicures and soaks off easily using acetone.
Have You Created Nails For Breast Cancer Awareness?
We would love to share your nails For Breast Cancer Awareness on our Pinterest board. Send Nail Designs to graphicdesign@nsinails.com.
Follow NSI's board I Polish Pink For Breast Cancer on Pinterest.
Tags: breast Cancer, Gel Polish, Nail Art, polish pro, Susan G Komen
Email This Post